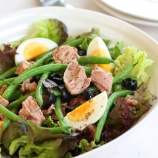 Click image to enlarge
Course: Starter
Dish: Fish
Serves: 2
Nutritional information per serving:
Canned black olives are convenient and ready to use straight out the can
Salad Nicoise
A classic tuna and egg salad, which takes just moments to make.
15 minutes to prepare and cook. Serves 2.
See "u.can cook" for more recipes devised with James Martin
Ingredients:
15g
canned black olives, halved
Method:
1.
Plunge 50g green beans into boiling water for 2 minutes to blanch.
2.
Cool rapidly under cold running water and drain.
3.
Place the salad leaves in a serving bowl.
4.
Flake the tuna over the leaves.
5.
Top with green beans, 1 quartered hard boiled egg and black olives.
6.
Drizzle with French dressing and serve.
Canny Fact:
You can find sustainable canned fish at the supermarket.
Hints and Tips: To make a more substantial main course add cold sliced new potatoes and tomatoes. Chop the remaining black olives and use in pasta sauces or on pizzas.