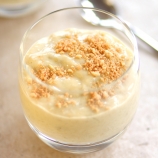 Click image to enlarge
Course: Dessert
Dish: Vegetarian
Serves: 4
Nutritional information per serving:
Canned rhubarb counts towards one of your 5-A-DAY
Rhubarb Fool
This dessert is a treat packed with fruit and flavour, and is so easy to prepare.
35 minutes to prepare and chill. Serves 4.
See "u.can cook" for more recipes devised with James Martin
Ingredients:
560g
can rhubarb, drained
1 tsp
sieved icing sugar (optional)
Method:
1.
Mash the rhubarb with a fork.
3.
Sweeten to taste with the icing sugar (optional).
5.
Sprinkle each rhubarb fool with a teaspoon of crushed shortbread biscuit.
6.
Chill for 15 minutes then serve.
Hints and Tips: For rhubarb and ginger fool fold in 1 Tbsp finely chopped stem ginger.