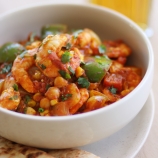 Click image to enlarge
Course: Main
Dish: Fish
Serves: 4
Nutritional information per serving:
Chickpeas are a source of vitamin E, great for your skin and maintaining a healthy heart
Prawn & Chickpea Balti
An impressive tasty curry, which takes less time than you would expect to make from scratch.
20 minutes to prepare and cook. Serves 4.
See "u.can cook" for more recipes devised with James Martin
Ingredients:
400g
can chopped tomatoes
195g
can sweetcorn, drained
100g
can chickpeas, drained
1
green pepper, deseeded and diced
1 Tbsp
fresh coriander, chopped
Method:
1.
Heat the oil in a wok or deep sided frying pan. Add onion and pepper and stir-fry together for 2 minutes.
2.
Stir in curry paste and stir-fry for a further 2 minutes.
3.
Reduce heat, add tomatoes and chickpeas, stir-fry together for 2 minutes.
4.
Add prawns and sweetcorn and stir-fry for 2-3 minutes, or until all the prawns have turned pink.
5.
Stir in coriander and serve with warm naan bread.
Canny Fact:
You can find sustainable seafood at the supermarket.
Hints and Tips: Replace chickpeas with lentils.