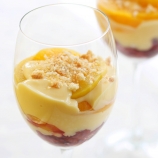 Click image to enlarge
Course: Dessert
Dish: Vegetarian
Serves: 4
Nutritional information per serving:
Canned fruits keep far longer in the can than fresh. This recipe includes two of your 5-A-DAY!
Peach Melba Custard
A quick and easy pudding containing plenty of healthy fruit, which takes just a few minutes to make.
5 minutes to prepare. Serves 4.
See "u.can cook" for more recipes devised with James Martin
Ingredients:
300g
can raspberries, drained
415g
can peach slices, drained
Method:
1.
Crush 4 Amaretti biscuits.
2.
Divide the raspberries between 4 glass serving dishes.
3.
Place a layer of custard on top of the raspberries.
4.
Layer the peaches and remaining custard between the 4 serving dishes.
5.
Sprinkle with crushed Amaretti biscuits and serve.
Hints and Tips: As an alternative to Amaretti biscuits use crushed shortbread biscuits.