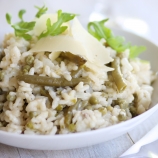 Click image to enlarge
Course: Main
Dish: Vegetarian
Serves: 4
Nutritional information per serving:
Canned mushrooms count as one of your 5-A-DAY
Mushroom Risotto
An easy, classic risotto. It tastes great with added rocket or parmesan – a perfect meal to impress your friends.
35 minutes to prepare and cook. Serves 4.
See "u.can cook" for more recipes devised with James Martin
Ingredients:
290g
can cut green beans, drained
140g
can petit pois, drained
400g
can Cream of Mushroom Soup
300g
Arborio risotto rice
500ml
hot vegetable stock or water
Method:
1.
Heat oil and butter in a saucepan and fry onion until soft.
2.
Add the rice and fry gently until it turns translucent.
3.
Stir in the soup and a little hot stock, add the stock gradually, adding more as the rice absorbs the liquid, stirring frequently.
4.
After about 15 minutes the rice should be creamy but still have some bite.
5.
Remove from the heat, stir in the green beans and petit pois. Place lid on pan and leave to stand for 5 minutes.
6.
Serve with shavings of Parmesan.
Feezing: Risotto freezes well, however care must be taken to cool rapidly before feezing. We recommend placing a thin layer on a shallow dish so it cools quickly. May be reheated in a microwave. Ensure risotto is piping hot when reheated