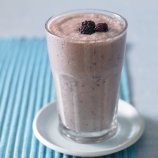 Click image to enlarge
Course: Dessert
Dish: Vegetarian
Serves: 4
Nutritional information per serving:
Calories: 255g
Protein: 12g
Carbohydrate: 39.2g
Sugars: 32.8g
Fat: 7g
Saturated fat: 1.4g
Fibre: 1.5g

Using canned fruit makes this smoothie more affordable than using fresh alternatives
Banana Smoothie with Red Berries and Honey
Perfect for those on the go, this smoothie is packed with two portions of your 5-A-DAY.
5 minutes to prepare. Makes 4.
See "Switch 2" for more recipes devised with James Martin
Ingredients:
2 ripe bananas
1/2 x 300g can raspberries, drained
1/2 x 300g can blackberries, drained
1 x 410g can evaporated milk
100ml water
100g Greek style yoghurt
2 tbsp honey
Method:
1. Put the berries and bananas in a blender with 1/2 the evaporated milk and the yoghurt.
2. Blend until smooth, add the remaining evaporated milk and enough water to give the desired consistency.
3. Add honey to taste, blend and serve.
How to serve: For a really chilled smoothie, add 4-6 ice cubes when blending. For the best results, serve immediately.