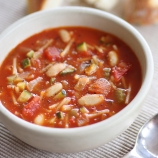 Click image to enlarge
Course: Starter
Dish: Vegetarian
Serves: 3-4
Nutritional information per serving:
Canned tomatoes are an excellent source of cancer-fighting antioxidant lycopene and is one of your 5-A-DAY
Minestrone Soup
This low-calorie, yet filling soup, is perfect as a winter warmer, or a healthy snack or starter.
30 minutes to prepare and cook. Serves 3 - 4.
See "u.can cook" for more recipes devised with James Martin
Ingredients:
400g
can chopped tomatoes
150g
can cannellini beans, drained
1
small courgette, finely chopped
1
stick celery, finely chopped
Method:
1.
Heat the olive oil in a large saucepan.
2.
Add the onion and fry for 5 minutes until golden.
3.
Add the celery and courgette and fry for a further 2 minutes.
4.
Add the chopped tomatoes, vegetable stock and cannellini beans.
5.
Bring to the boil and then add the spaghetti, breaking it into short strands as it is added.
6.
Simmer for a further 10 minutes or until spaghetti is tender.
7.
Season to taste and serve with crusty bread.
Hints and Tips
: Try adding finely shredded spring greens.