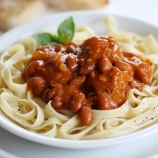 Click image to enlarge
Course: Main
Dish: Meat
Serves: 3-4
Nutritional information per serving:
Canned meatballs are a great source of iron, which is vital for red blood cell production
Mediterranean Meatballs
A family favourite, meatballs make a great meal for adults and kids alike.
30 minutes to prepare and cook. Serves 3 - 4.
See "u.can cook" for more recipes devised with James Martin
Ingredients:
400g
can tomato soup with basil
410g
can borlotti beans, drained
1
red onion, finely diced
2
garlic cloves, finely chopped
Method:
1.
In a large pan, heat oil and fry onion until soft, add garlic and continue frying for 2 minutes.
2.
Add the meatballs and brown well.
3.
Stir in soup and borlotti beans.
4.
Gently simmer for 15 minutes.
5.
Serve with spaghetti or tagliatelle.
6.
Delicious served with garlic bread.
Freezing: Mediterranean meatballs can be portioned and frozen. Defrost thoroughly in a refrigerator prior to reheating.