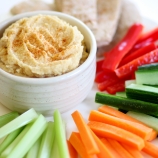 Click image to enlarge
Course: Starter
Dish: Vegetarian
Serves: 2-3
Nutritional information per serving:
Calories: 244
Protein: 7.4g
Carbs: 16.8g
Sugars: 1.1g
Fat: 16.9g
Sat Fat: 2.3g
Fibre: 0.1g
Sodium: 0.0g
Canned chickpeas are a source of folic acid which helps to form healthy blood cells
Houmous
A quick and healthy dip - perfect with carrots, celery, or pitta.
10 minutes to prepare. Serves 2 - 3.
See "u.can cook" for more recipes devised with James Martin
Ingredients:
400g can chickpeas, drained
3 Tbsp olive oil
1 clove garlic
½ lemon
Salt and black pepper for seasoning
Ground paprika
Pitta bread
Vegetable crudities
Method:
1.
Place the chickpeas in a food processor with the olive oil, garlic and juice of ½ a lemon and blitz for 30 seconds or until the mixture is smooth.
2.
Alternatively, mash together with a fork.
3.
Season well with salt and black pepper.
4.
Place in a serving bowl, sprinkle with ground paprika.
5.
Delicious served with warm pitta bread and vegetable crudities.
Hits and Tips:
For variation try adding ground cumin or chilli powder.
For a more authentic houmous, try adding 1 Tbsp Tahini paste.