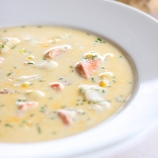 Click image to enlarge
Course: Main
Dish: Fish
Serves: 4
Nutritional information per serving:
Canned salmon contains essential Omega-3 fats which help to regulate blood pressure and keep bodies healthy
Fish Chowder
This American classic contains plenty of fish and tastes just as good as it looks!
35 minutes to prepare and cook. Serves 4.
See "u.can cook" for more recipes devised with James Martin
Ingredients:
250g cod fillet, skinless and boneless, cut into chunks
213g can red salmon, drained and flaked
195g can sweetcorn, drained
500g potatoes, cubed
2 leeks, finely sliced
300ml pot double cream
1 litre vegetable stock
20g chives, finely sliced
1 Tbsp oil
10g butter
1 bay leaf
Seasoning
Crusty bread
Method:
1.
In a large saucepan heat oil and butter. Add leeks and fry for 5 minutes until soft but not browned.
2.
Add potatoes and cook for a further 2 minutes.
3.
Pour in stock, add the bay leaf, bring to the boil, cover and simmer for 10 minutes, or until potatoes are tender. Remove the bay leaf.
4.
Remove approximately half of the potatoes and leeks from the pan and blitz in a blender or food processor with the cream until smooth.
5.
Pour back into the pan and then stir in the cod and simmer for 2 minutes.
6.
Add the salmon and sweetcorn and simmer for a further 5 minutes.
7.
Stir in the chives, season to taste and serve with fresh crusty bread.
Canny Fact:
You can find sustainable fish at the supermarket.
Hints and Tips: Replace cod with any firm white fish.