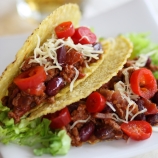 Click image to enlarge
Course: Starter
Dish: Meat
Serves: 4
Nutritional information per serving:
A serving of drained canned kidney beans contains double the calcium of the same sized serving of dried boiled kidney beans
Crunchy Beef Tacos
This Mexican favourite is perfect as a light meal or snack. Drizzle with tomato salsa and sour cream for the perfect finish.
25 minutes to prepare and cook. Serves 4.
See "u.can cook" for more recipes devised with James Martin
Ingredients:
420g
can red kidney beans in chilli sauce
400g
can chopped tomatoes
1
red onion, finely diced
200g
jar red jalapenos, drained
100g
Emmental cheese, grated
Method:
1.
Heat the oil in a deep sided frying pan or wok.
2.
Add the onion and fry until soft, add the mince and brown.
3.
Add garlic and cumin and fry for a minute.
4.
Stir in kidney beans and tomatoes, gently simmer for 15 minutes.
5.
To serve, preheat oven to fan 180°C, conventional 200°C, gas 6.
6.
Place taco shells, open end down on a baking sheet and heat for 2-3 minutes.
7.
Stuff the warmed tacos with lettuce, fill with the chilli beef, top with jalapenos and cheese, eat immediately while the taco is crisp.
Hints and Tips:
Try serving with tomato salsa and sour cream.
If you are unable to find kidney beans in chilli sauce, use a can of red kidney beans and add 1-2 tsp chilli
powder with cumin.