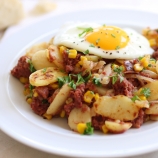 Click image to enlarge
Course: Main
Dish: Meat
Serves: 4
Nutritional information per serving:
Canned beef is a great source of Iron which is good for red blood cell production
Corned Beef Hash
An updated version of a traditional British dish and so quick and easy to make.
20 minutes to prepare and cook. Serves 4.
See "u.can cook" for more recipes devised with James Martin
Ingredients:
340g
can corned beef, cut into bite size pieces
567g
can new potatoes, drained and thickly sliced
198g
can sweetcorn, drained
2 tsp
English mustard powder
1 Tbsp
parsley, finely chopped
Method:
1.
Place corned beef in a bowl, add mustard powder and Worcester sauce and mix well.
2.
In a large frying pan, heat oil, add onion and fry until soft.
3.
Add potatoes and continue frying until they begin to turn brown.
4.
Add corned beef and sweetcorn, continue frying until all the ingredients are heated through.
5.
Stir through the parsley, place on a warm serving dish and keep warm. Fry the eggs and serve immediately on top of the corned beef.
6.
Delicious served with crusty bread.
Hints and Tips:
Place the can of corned beef in the fridge for a while prior to cooking.
Vary this dish by adding your favourite vegetables, try frying chopped red pepper with the onion, or some freshly
For a healthier version try serving with poached eggs.