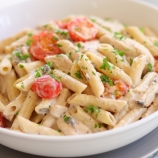 Click image to enlarge
Course: Main
Dish: Meat
Serves: 2
Nutritional information per serving:
Canned creamed mushrooms are a quick and easy way to add flavour and texture to any dish
Chicken Penne
A simple, filling meal that takes minutes to make – great when you're hungry and are rushed for time.
15 minutes to prepare and cook. Serves 2.
See "u.can cook" for more recipes devised with James Martin
Ingredients:
2
chicken breasts, sliced
200g
can creamed mushrooms
100g
cherry tomatoes, halved
Method:
1.
Place penne in a large pan of boiling water and cook for 10 minutes, or until tender.
2.
Meanwhile, in a wok or deep sided frying pan, heat oil and stir-fry chicken for 5 minutes.
3.
Stir in creamed mushrooms and milk, heat through for 2 minutes.
4.
Gently stir in tomatoes and heat through for a further 2 minutes.
5.
Drain penne and stir into mushroom sauce.
6.
Sprinkle with parsley and serve with a green salad.
Hints and Tips: Tomatoes can be replaced with canned cherry tomatoes, sliced courgettes or green beans.
Freezing: Freeze prior to addtion of fresh tomatoes and penne. Defrost thoroughly in a refrigerator prior to reheating.