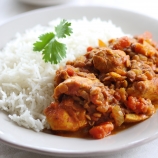 Click image to enlarge
Course: Main
Dish: Meat
Serves: 4
Nutritional information per serving:
Canned lentils are a source of iron which is good for red blood cell production - what's more, there's no need to soak them
Chicken Dhansak
Serve this mouth-watering curry with plain rice and mango chutney to enjoy the different flavours and textures.
40 minutes to prepare and cook. Serves 4.
See "u.can cook" for more recipes devised with James Martin
Ingredients:
6
chicken thigh fillets or 500g chicken breast, diced
400g
can chopped tomatoes
410g
can lentils, drained
1
red onion, finely diced
3 Tbsp
medium curry paste
Method:
1.
In a wok or deep sided frying pan, heat oil and fry onion until soft, add garlic and fry for 1 minute.
2.
Add chicken and fry for a few minutes to brown, stir in curry paste and gently fry for 1 minute.
3.
Stir in tomatoes and lentils, bring to the boil and reduce to a simmer for 20 minutes or until the chicken is tender.
4.
Serve with plain boiled Basmati rice and mango chutney.
Hints and Tips: This recipe can be cookeed in the oven at fan 170°C, conventional 190°C, gas 5 for 30 - 40 minutes or until the meat is tender.
Freezing: This recipe can be portioned and frozen. Defrost thoroughly in a refrigerator prior to reheating.