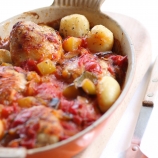 Click image to enlarge
Course: Main
Dish: Meat
Serves: 2
Nutritional information per serving:
Canned ratatouille contains tomatoes which are an excellent source of the antioxidant lycopene
Chicken & Ratatouille Bake
This recipe uses typical British ingredients, chicken and potato, but with a tasty Mediterranean splash.
45 minutes to prepare and cook. Serves 2.
See "u.can cook" for more recipes devised with James Martin
Ingredients:
4 chicken thighs, skin on
560g can potatoes, drained
390g can ratatouille
1 tsp dried oregano
1 Tbsp oil
Method:
1.
Preheat oven to fan 180°C, conventional 200°C, gas 6.
2.
Heat oil in a large flameproof oven dish and brown chicken thighs on both sides.
3.
Remove chicken thighs from pan and set aside.
4.
Add potatoes to pan and fry in remaining oil for 2 minutes. Remove potatoes from oil using a slotted spoon and drain excess fat from dish.
5.
Return chicken and potatoes to dish, pour over ratatouille, sprinkle over oregano and tumble ingredients together to combine.
6.
Place in the oven for 30 minutes or until chicken is cooked though, stir halfway during cooking.
Hints and Tips: This recipe can be cooked on the hob for 30 minutes, or until the chicken is cooked.
Freezing: This recipe can be frozen. Defrost thoroughly in a refrigerator pror to reheating.