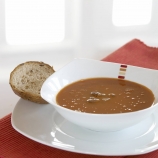 Click image to enlarge
Course: Starter
Dish: Vegetarian
Serves: 4
Nutritional information per serving:
35kcals/568kJs
Carbohydrate: 17.8g
Protein: 6.6g
Fat: 4.2g
Fibre: 4.7g
Canned tomatoes are an excellent source of cancer fighting antioxidant lycopene and is one of your 5-A-DAY
Magic Bean Soup
This tasty soup is a quick and easy winter warmer, and great for cooking with the kids too.
15 minutes to prepare and cook. Serves 4.
See "Off The Shelf" for more recipes devised with James Martin.
Ingredients:
1 crushed clove of garlic
1 finely chopped red onion
Olive oil
400g can tomatoes

410g can borlotti beans, drained and rinsed
300ml water
wholemeal bread
Method:
1. Gently fry 1 crushed clove of garlic with 1 finely chopped red onion in a little olive oil until soft, but not browned.
2. Put the 400g can tomatoes and juice and the onion and garlic in a blender with about half the can of the rinsed borlotti beans.
3. Whizz until almost smooth and return to the pan.
4. Add the water and the remaining borlotti beans and heat until boiling.
5. Serve with warm wholemeal bread.