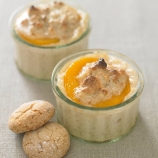 Click image to enlarge
Course: Dessert
Dish: Vegetarian
Serves: 4
Nutritional information per serving:
Calories: 363g
Protein: 8.2g
Carbohydrate: 46.8g
Sugars: 30.9g
Fat: 13g
Saturated fat: 5.4g
Fibre: 1.1g
Canned dairy products are a source of calcium, which helps to keep teeth and bones strong
Amaretto Peaches with sweet vanilla rice
A tasty dessert suitable for any dinner party.
20 minutes to prepare and cook. Serves 4.
See "Switch 2" for more recipes devised with James Martin.
Ingredients:
1 x 410g can peach halves in natural juice, drained
1 x 425g can creamed rice pudding
50g amaretto biscuits lightly crushed
25g butter, softened
25g soft brown sugar
1 egg yolk
4 tbsp amaretto liquor
1/2 tsp vanilla extract
Method:
1. Preheat the oven 180C/ 350F/Gas 5.
2. Cream the butter and sugar in a bowl with wooden spoon, add the egg yolk 1/2 the liquor and biscuits and mix well.
3. Mix the rice pudding with the vanilla extract and divide between 4 ramekins.
4. Place a peach half, cut side up, on the top of the rice and spoon the amaretto mixture into the hole where the stone was. Drizzle over the remaining amaretto.
5. Place in the middle of the oven and bake for 8-10 minutes, until the top is lightly golden and bubbling. How to serve: Sit the ramekin on a small plate with a couple of amaretto biscuits on the side.