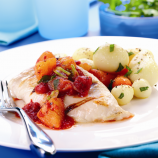 Click image to enlarge
Course: Main
Dish: Meat
Serves: 4
Nutritional information per serving:
Calories: 379
Protein: 40.2g
Carbohydrate: 44.1g
Fat: 5.9g
Saturated fat: 1.0g
Fibre: 3.6g
Canned apricots are an excellent source of vitamin A, which is essential for maintaining healthy skin
Seared Chicken with warm Tomato and Apricot Sauce
The salsa in this dish puts a Mediterranean twist on simple chicken; perfect for a light lunch or a tasty dinner.
30 minutes to prepare and cook. Serves 4.
Ingredients:
4 x skinless chicken breasts
1 tbsp olive oil
4 spring onions
1 x 298g can chopped tomatoes with garlic
1 tbsp tomato ketchup
1 x 298g can apricots in natural juice
Handful of basil leaves, roughly torn

Seasoning
A pinch of sugar
A few drops balsamic vinegar
1 x 425g can new potatoes, drained
1 x 298g can baby carrots, drained
2 tbsp fresh mint, chopped
Method:
1. Heat the griddle for 5 minutes. Make three diagonal slashes across the chicken breast, brush with a little olive oil and cook on the griddle for 4 minutes each side. This could also be done under a preheated grill.
2. Drain the apricots and retain 4 tbsp of the juice. Dice the apricots.
3. Heat the remaining oil in a saucepan and cook the spring onions for 2-3 minutes until softened. Stir in the tomatoes, tomato ketchup, apricots, juice and basil and simmer for 5 - 10 minutes, until the sauce has thickened. Add the sugar vinegar and seasoning and simmer for a further minute.
4. Cook the potatoes as per can instructions, drain, add a drizzle of olive oil and a handful of mint, shake for even covering.
5. Cook the green beans in a dry heated pan until heated through and lightly charred in colour. Season potatoes and beans with black pepper and sea salt.
6. Serve the chicken with a spoonful of sauce alongside the potatoes and carrots.