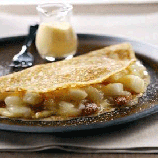 Click image to enlarge
Course: Dessert
Dish: Vegetarian
Serves: 4
Nutritional information per serving:
Carbohydrate: 26.0mg
Protein: 4.0mg
Fat: 9.6mg
Fibre: 0.5mg

Canned apples count as one of your 5-A-DAY and canned custard is super-convenient
Apple Pancakes with Toffee and Custard
This indulgent treat is perfect for those with a sweet tooth.
10 minutes to prepare and cook. Serves 4.
Ingredients:
395g can apple pie filling
425g can custard
250g plain flour
4 medium eggs
650ml semi-skimmed milk
5 Devonshire toffees cut into chunks
75g caster sugar
2 tbsp Calvados
Pinch of salt
Sunflower oil to fry
Method:
1. To make the pancakes, sift the flour into a large bowl with a pinch of salt. Make a well in the centre and add the eggs and a little of the milk. Whisk together until well mixed. Whisking continuously, add the remaining milk, the sugar and Calvados.
2. Heat a 25cm non-stick frying pan and lightly oil the base. Add enough batter into the hot pan to cover the base. Heat for 45-55 seconds on each side, until golden. Keep the pancakes warm.
3. Pour the apple filling into a pan, add the toffee. Heat gently until just simmering but not boiling.
4. Pour the custard into a small pan and heat gently for 2-3 minutes until just simmering.
5. Spoon the custard onto half the pancake and top with the apple filling. Fold the pancake over and serve.