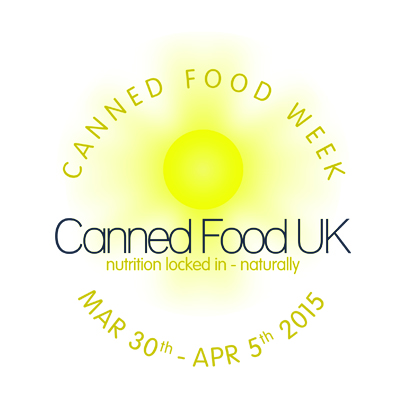 Canned Food Week (March 30 – April 5) is back for the third year, and this year promises to be bigger and better than ever! For 2015, Canned Food UK has teamed up with celebrity nutritionist Amanda Hamilton to produce a set of Healthy Eating Plans.
Eating healthily is one thing many of us aspire to do, whether it's by following a diet, cutting out excess sugar or trying to eat a little less. However lots of us struggle to know where to start. These plans are designed to show how using canned food is a convenient and affordable way to eat healthily.
Seven plans have been created to highlight the versatility of cooking with canned food for a number of different audiences, from older people and students, to families with younger children and couples, and just about everyone else in between! So, no matter what, you're bound to find one that fits your lifestyle.
Each plan includes seven days' worth of meal ideas, taking you from breakfast through to dinner and Canned Food UK will also be releasing seven brand new and delicious recipes – one on each plan – to get your mouth watering. Two have even been designed by Canned Food UK ambassador and celebrity chef James Martin.
One plan will be unveiled on each day of Canned Food Week, so watch this space, and get involved by downloading the plan that describes you best, to enjoy fantastic food for the entire week. We'd love to hear about your experiences and see your creations too – just message us on Facebook or tweet a picture on Twitter!
Healthy Eating Plan for the more mature:

As you get older, it's important to eat food that will help to keep you strong; food that will help to maintain healthy bones or aid eyesight, for example. Using canned food in your recipes is a great way to do this, as not only is it convenient to cook with, but also includes plenty of nutrients. Take the new Pork and Fennel with Red Wine and Borlotti Beans Casserole – it only takes 10 minutes to prepare before you pop it in the oven and let it cook away. The Borlotti Beans are a good source of fibre, helping to lower cholesterol, whilst the potassium it contains can lower blood pressure.




Healthy Eating Plan for just the two of you: to be unveiled on Tuesday 31 March

Healthy Eating Plan for your small army: to be unveiled on Wednesday 1 April

Healthy Eating Plan for students: to be unveiled on Thursday 2 April

Healthy Eating Plan for me, myself and I: to be unveiled on Friday 3 April

Healthy Eating Plan for your growing teens: to be unveiled on Saturday 4 April

Healthy Eating Plan with James Martin recipes: to be unveiled on Sunday 5 April