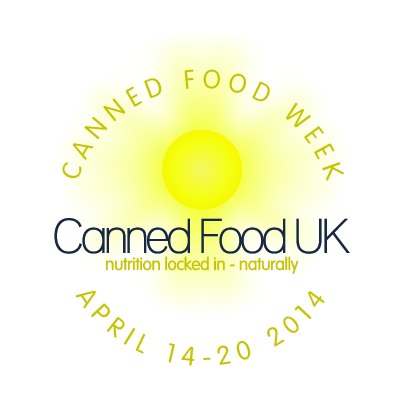 Canned Food Week returned for a second year this Spring between April 14 – 20 2014, and was even bigger and better than ever! Canned Food Week 2013 was so popular that this year, we ramped up the celebrations and even created some exciting new recipes for you to try.
Each of our new recipes have been brought to you with the support of our specialist partners - from celebrity chef and Canned Food UK ambassador James Martin to groups including The Vegetarian Society, Independent Age, and My Family Club. There's a recipe to suit everyone, and on top of that we'll also be showcasing some of our existing recipes and explain why they are so good for you.
Canned Food Week is designed to help you plan nutritionally balanced meals and show you that using canned food is a healthy, time-effective and cost-effective way to cook. Each day is dedicated to a different partner, taking you through a whole seven days of tasty meals whatever your dietary requirements or mood. From quick and easy recipes, to food for all the family, plus lower calorie meals, there's something tasty to suit every occasion.
So why not have a look at our information about Canned Food Week below, and give our suggested recipes a try? We'd love to hear about your experiences and see your creations!
Scrummy Sunday, with James Martin

Let's face it, nothing quite beats a traditional Sunday dinner, but that doesn't mean you have to rely on a traditional Roast. Why not mix it up a bit with Lamb Cutlets with Butterbean Mash created by James Martin? Instead of using potatoes, the innovative mash alternative uses a can of crushed butterbeans. If you refer poultry options then why not try either Roast Duck with Cherry Sauce or Seared Chicken with warm Tomato and Apricot Sauce recipes, for a perfect ending to the week?

Supercharged Saturday, with James Martin

There are some delicious, yet healthy new recipes using canned food and the Chicken & White Bean Salad, which has been newly created by celebrity chef and canned food ambassador James Martin, is no exception. This contains canned haricot beans, which are a good source of fibre, key to promoting good digestion, as well as chicken breast , rocket salad and cherry tomatoes. Alternatively, Crab & Noodle Soup only contans 184 calories, while our Lentil and Spinach Curry recipe gives you the option to skip the take-away and still enjoy one of the nation's favouite meals.

Fast-fix Friday, with Save The Student (www.savethestudent.org)

With exams and coursework to concentrate on, along with the odd night out, students often look for quick and easy meals to make in a hurry. Steak Wraps are the perfect option, as they only take 15 minutes to make. The great thing about canned food is that it's ready to eat from the can, so you can add a can of sweetcorn and kidney beans to this delicious recipe and away you go. Plus, the recipe is so versatile – you can swap steak with chicken, or even Quorn. For more recipes which only take a few minutes to make, try our Chilli Pork Stir-fry and Spicy Bean Burgers.

Tiny Tums Thursday with Small Steps Parenting (www.smallstepsonline.co.uk)

It can sometimes be a challenge getting your little ones to eat what you want them to, so why not get them to help out so you can all have fun in the kitchen and at the dinner table? The St Clements Pie is perfect for this, as not only can they help to bash the biscuit base, but it also gets them eating some of their 5-A-DAY, thanks to the canned oranges. Alternatively, try the Fun Fish Cakes with Vegetable Mash or Tuna and Vegetable Mini Pitta Pockets recipes.

Veg-out Wednesday, with the Vegetarian Society (www.Vegsoc.org)

Canned Food UK has recipes to help you get over the mid-week slump. Our Vegetarian Pizza includes delicious ingredients such as canned cherry tomatoes and canned sliced mushrooms, coupled with fresh goats cheese, so you can kick back after a long day at work and literally veg-out! Other meal ideas from Canned Food UK, including Spicy Pinto and Baked Bean Wraps and Vegetarian Bean Chilli, demonstrate that vegetarian food is anything but boring.

Tuck-in Tuesday, with My Family Club (www.myfamilyclub.co.uk)

When you've got a family to feed, you need a filling meal that will keep your small army going, but one which will also go a long way without breaking the bank. The Sweet & Sour Vegetable Stir Fry recipe is ideal, as it's easy to make a large quantity and costs less than £1.50 per serving. Similarly, the Prawn and Chickpea Balti and Cannellini Bean and Farfalle Pasta recipes are great for sharing.

Make it simple Monday, with Independent Age (www.Independentage.org)

Using canned food in your recipes is not only convenient but it also includes nutrients which help to keep you healthy. Take the Salmon & Potato Bake, for example. It only includes five ingredients, taking the hassle of too much preparation out of the equation. Meanwhile canned salmon is a great source of Omega-3, which helps to regulate blood pressure and keep bodies healthy. Magic Bean Soup and Tuna Kedgeree are both simple alternatives to make.